My last post was a more personal post about our new adventure into parenthood, and as expected, it was the most popular my little journal has ever been. Crazy how people want to be in your personal lives. I think that there's always a balance that needs to happen, and I hope to always uphold that. I'm getting ready to have a son who is going to be born into a world where everyone has a phone and it's weird. My mantra through this whole adventure has been "one step at a time," so instead of panicking about it, I'm going to say, "one step at a time." My other mantra has been, "It's manageable." I haven't had a difficult pregnancy so far, and to anything that could be frustrating I've chosen to say, "this is manageable." I'm hoping that mentality will carry over into labor.
Okay enough baby talk, not everyone cares about that… like me right now. I care about these cookies. I have been making these cookies for awhile, so again here is another recipe I've just never taken the time to write down. One time a guy told me it was an adult cookie, very respectable. I laughed because I knew what he meant. It's not icky sweet, if you know me at all, you know I do not like any sort of pastry that is just covered in sugar. I guess that's what he meant by an adult cookie. What's so special about them? A few things: there's brown butter – c'mon, if I'm making it, there's bound to be brown butter – and muscovado sugar, which is why they aren't so sweet. Muscavado is a very rich, dark brown sugar, more on the lines of a molasses flavor. There's also a higher percentage of chocolate, another reason why they're not so sweet, and then a nice topping of Maldon flaky sea salt.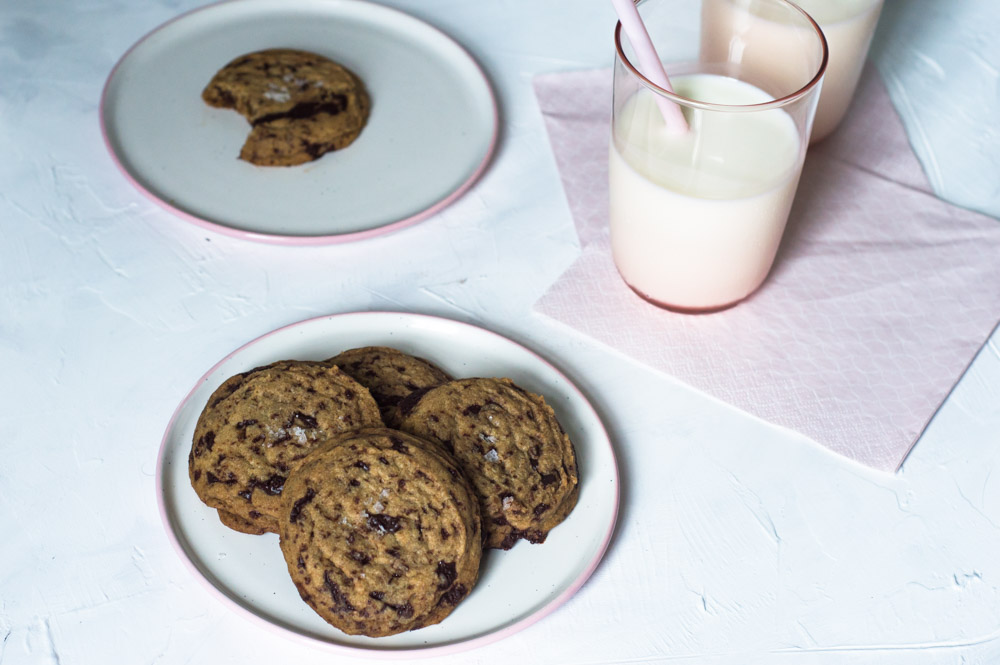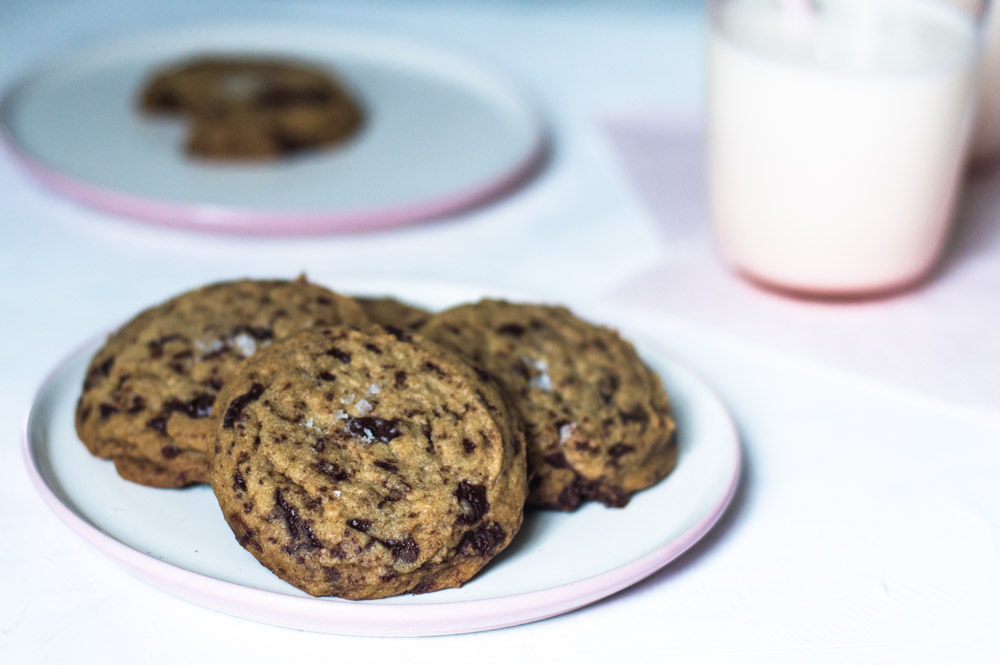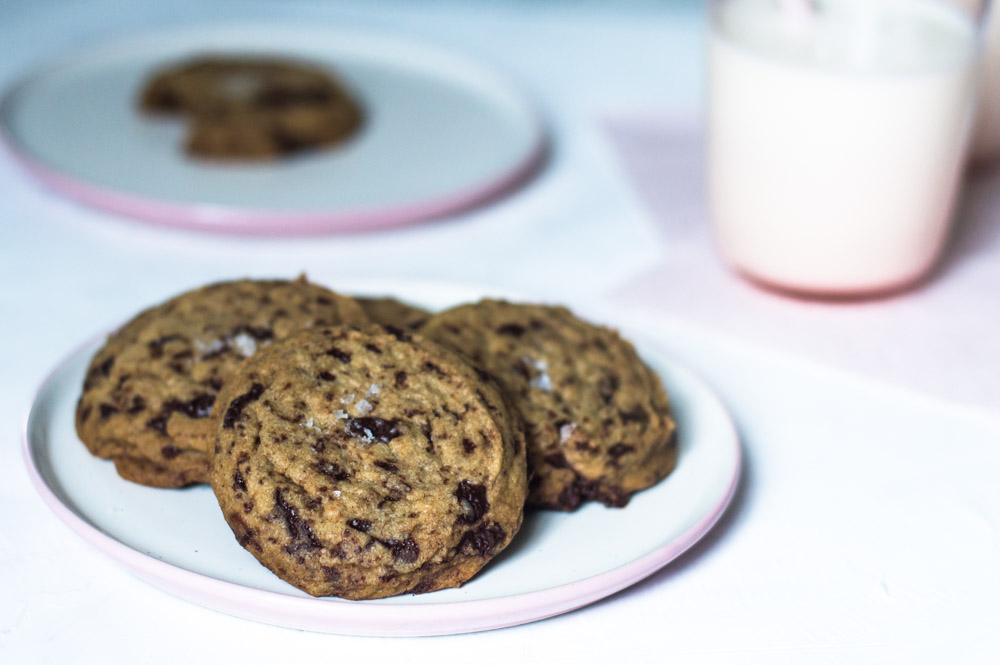 1 Cup of European style butter (2 sticks)
2 ¼ Cups All Purpose Flour
1 tsp baking soda
½ tsp salt
¼ cup of granulated sugar
1 ½ dark muscavado sugar
1 egg
1 egg yolk
2 tsp vanilla bean paste
1 ½ cups 85% chocolate chopped into pieces
What you need to do!
∙Brown your butter first so it has time to cool. If it doesn't cool, it'll be too hot and melt your chocolate and cook your eggs. Place butter over medium heat, stirring occasionally. Once your butter has turned golden, keep a careful eye on it. Brown butter and burnt butter are close friends. Once it looks like a light caramel color, remove from heat. It'll continue to cook after you have removed it.
While your butter cools combine flour, baking soda, and salt, and set aside.
∙In a small bowl combine egg, egg yolk, and vanilla paste and set aside.
∙In a small bowl combine your flour, baking soda, and salt and set aside.
∙In your mixing bowl add in muscavado and granulated sugar and set aside.
∙Chop your chocolate, and if you didn't guess it, set aside. For this part I try not to touch the chocolate with my hands at all; it always ends up melting from the heat from my hands. I use a bench scraper to dump the chocolate into the bowl when the time comes.
∙Once butter is cooled, cream together sugars and brown butter with a paddle attachment.
∙Add in egg, egg yolk, and vanilla bean paste.
∙Gradually add in dry ingredients. You want everything to be well combined, but be careful to not over mix.
∙Add in all the chocolate. Make sure this is well distributed, but again do not overmix.
∙Portion dough out with an ice cream scoop onto a baking tray with parchment paper. They can all be touching to fit onto one tray. I use a 1.75 ounce scoop.
∙Freeze dough tray for 10 minutes or in the fridge for an hour or two. This helps the dough stay in shape and not expand.
∙Pull cookies from fridge or freezer and allow them to "sweat" on counter. The time needed to sweat depends on the humidity of your kitchen, but when your cookies seem to be a little pliable, or have been "sweating," move them to separate baking trays allowing space in between each cookie.
∙While your cookies sit on your counter pre heat oven to 350
∙Bake for 13-15 minutes, every oven is different. Just keep in mind that they'll continue to bake after you have pulled them out.