We've been making this recipe consistently for the past 2 years. I have just never shared it because Shepard's Pie isn't the prettiest dish in the world. It was very difficult to think, "How can I make this look pretty?" I went as far as to pipe the mashed potatoes on, but for goodness' sake don't you do that. Just make this easy dish and eat it! This is our go to dish whenever one of our friends has a baby. It's such a comforting and good-to-reheat dish. It's also a good dish to bring new parents, especially if they have their parents staying with them. It feeds so many and is so filling. We always get rave reviews for it, so felt it necessary to finally share it, if only for us to have something to easily look up the next time we make it!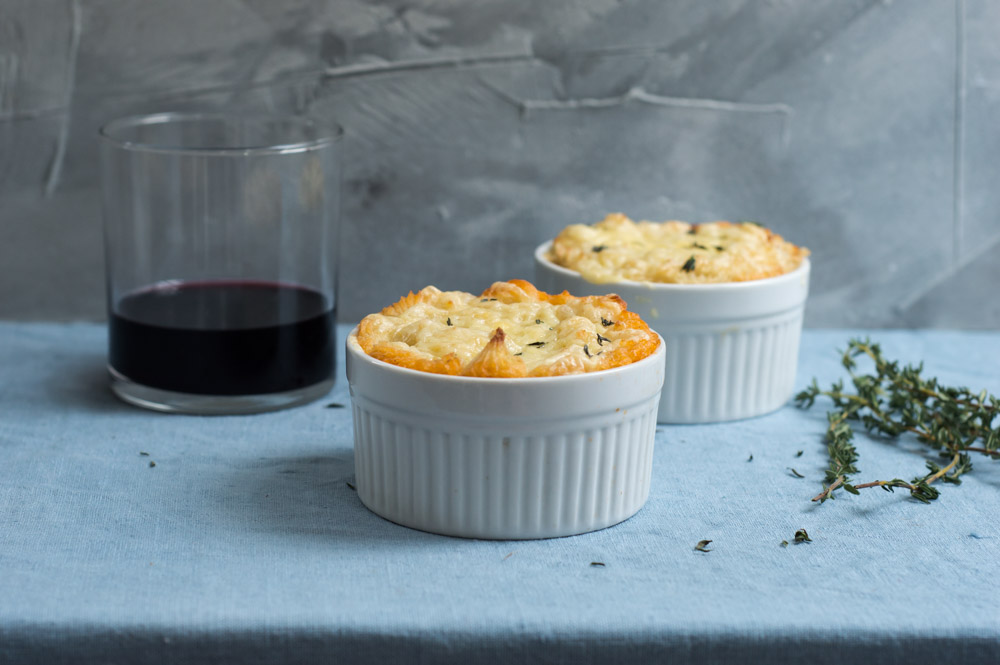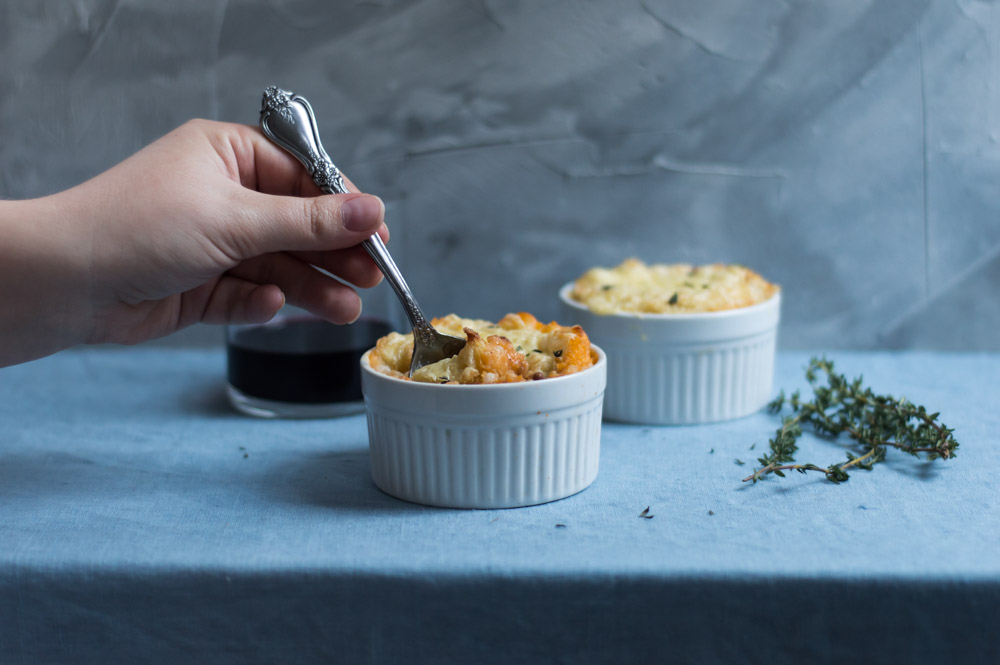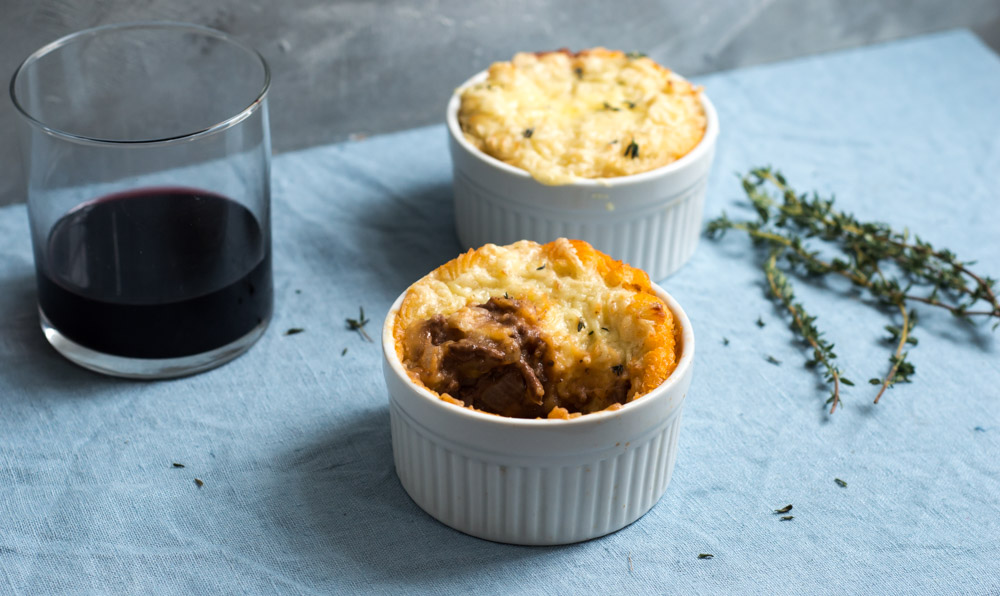 I'm not sure how many versions of Shepard's Pie are out there, but there are definitely a ton. So what makes this one unique? I'm going to go with the brown butter mashed potatoes and maybe the red wine simmered in the meat gravy. The shredded white cheddar cheese and thyme also adds to that for sure.
While I've taken photos in single portion size ramekins, this recipe is for a casserole dish. Since we're always taking it somewhere to drop off, so we usually cook this in an aluminum circular 8 inch pan.
1.5 pounds ground beef
1 medium sweet onion-diced
2 cloves of garlic-minced
1 cup carrots-diced
1 cup red wine- we usually find a dry cheap one
2 TBS Worcestershire sauce
2 TBS tomato paste
2 sprigs fresh thyme-removed from stem
1 cup beef stock
2 TBS All Purpose Flour
1 cup peas-frozen
salt and pepper to taste
1 1/2 pounds russet potatoes- peeled and diced evenly
4 TBS butter
1 cup half and half
1 tsp garlic powder
1 cup white cheddar-shredded
salt and pepper to taste
thyme leaves for top
What you need to do!
∙First, get started on boiling your potatoes. In a large stock pot, boil water and salt, and cook potatoes until fork tender.
∙While your potatoes are cooking, go ahead and start prepping everything for the meat filling or meat gravy, still haven't decided what exactly this layer is called. I like to have all the steps ready to go, that way I'm not stopping and starting in between.
∙Heat another large stock pot and add in your meat
∙Cook meat until lightly browned and add in onions.
∙Once onions have cooked and your meat is fully browned, add in garlic.
∙At this point I add in a pinch of salt and pepper. You'll be adding more as you go, but I did write "to taste."
∙Add in carrots and cook until fork tender; they don't have to be mushy (and they are better if they're not!), but cook a little
∙Before this next step I usually have all these ingredients measured out together in a glass measuring pitcher. It's just easier to dump it all in at once, instead of one at a time.
∙Add in wine, beef broth, thyme, Worcestershire, and tomato paste and bring this to a rolling boil, stirring periodically.
∙Once you're at a boil, sprinkle over your all purpose flour. I sprinkle this so I can avoid clumps. It's also important that your mix is at a boil before adding in flour to make sure you're cooking that raw flour taste out. We're going to cook this and stir periodically until it thickens. If not thickening after a minute or two of boiling, slowly add in a little more flour. I've noticed that sometimes, depending on where we get our beef it either contains a lot of water or was previously frozen, adding a little more liquid to my mix.
∙Once thickened, add in your frozen peas, stir in, and remove from heat. You don't want to cook your peas for too long on stovetop, otherwise they'll turn to mush.
∙At some point during your meat gravy cooking, you should have run your potatoes through a colander to remove the water. Return back to pan.
∙In a small sauce pot, brown your butter. This is simply cooking your butter past melting point until the fat solids separate and toast. It should be slightly brown and have a nutty aroma.
∙When you see you have brown butter, slowly pour in your half and half, being careful since you're adding semi cold to burning hot.
∙Mix around making sure you get any butter particles off the bottom of your sauce pot.
∙Pour butter milk mixture over potatoes and beat. I like lumpy mashed potatoes, but you do you.
∙Add in salt, pepper, and garlic powder to your potatoes and beat. Taste and see if you'd like to add more.
∙Preheat oven to 400
∙Add meat mix to the bottom of your casserole dish, and then however you see best, evenly distribute your potato layer. I usually just place globs of mashed potatoes around the whole dish and then smooth it out with a rubber spatula.
∙Bake on top of a tray in oven for 15 minutes. It likes to bubble out a little bit, so I always bake on top of a tray.
∙During those 15 minutes, shred yo cheese. You can obviously buy pre shredded, but I just love shredding our own cheese
∙Pull tray out after 15 minutes, sprinkle cheese all over top and add a few thyme leaves and bake for another 15 minutes or until cheese is niiiiiiice and bubbly.
I know this seems like a lot of steps, but it's really not. It's super easy! Feel free to make this your baby taking meal, unless you're friends with us, make us something different, haha.