At least once a week, I make something in my tiny kitchen for a group that ranges from 6 to 18 people. Everyone brings a little something. We have a lot of fun, and it's always a challenge to cook a large quantity of food from my kitchen which isn't a casserole and can easily be transported. It's easy to cook with butter and garlic, but I've been looking to add more greens to my life that aren't covered in butter. Not saying this wedge salad doesn't have its faults with cheese, bacon, and creamy Cesar dressing, but it was so good. Oh! and I'm in love with making Parmesan crisps. They're so easy to do and really make anything look gorgeous.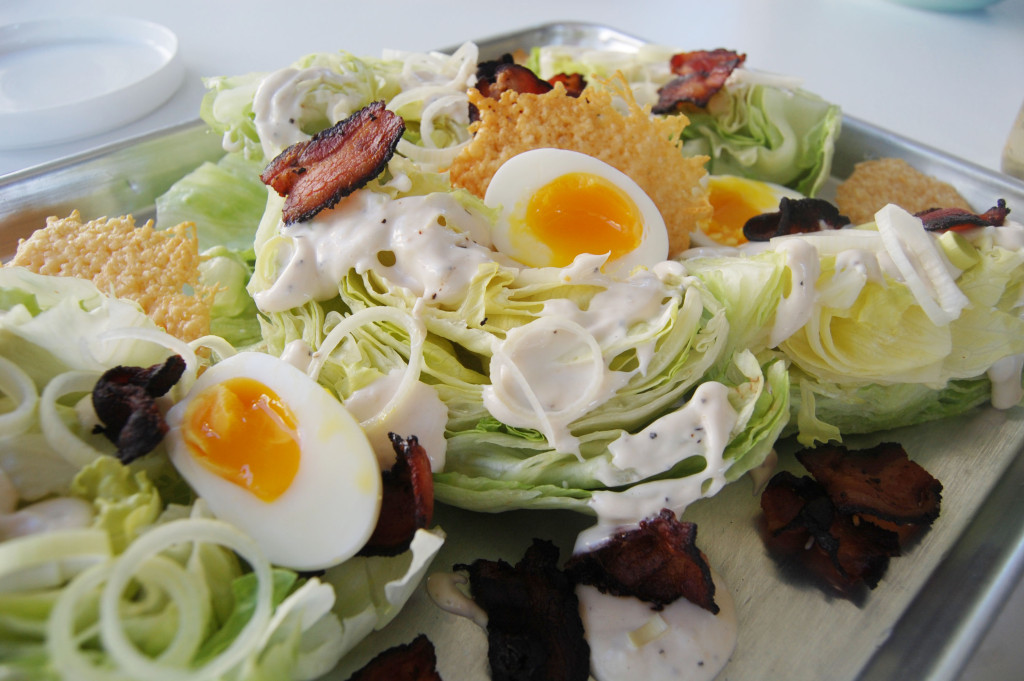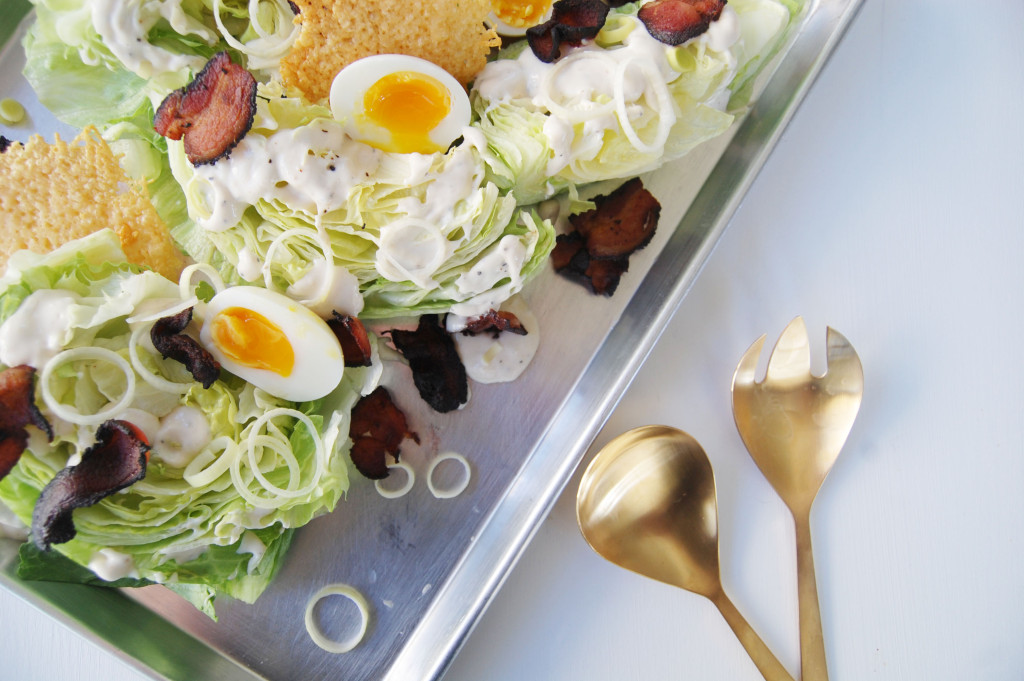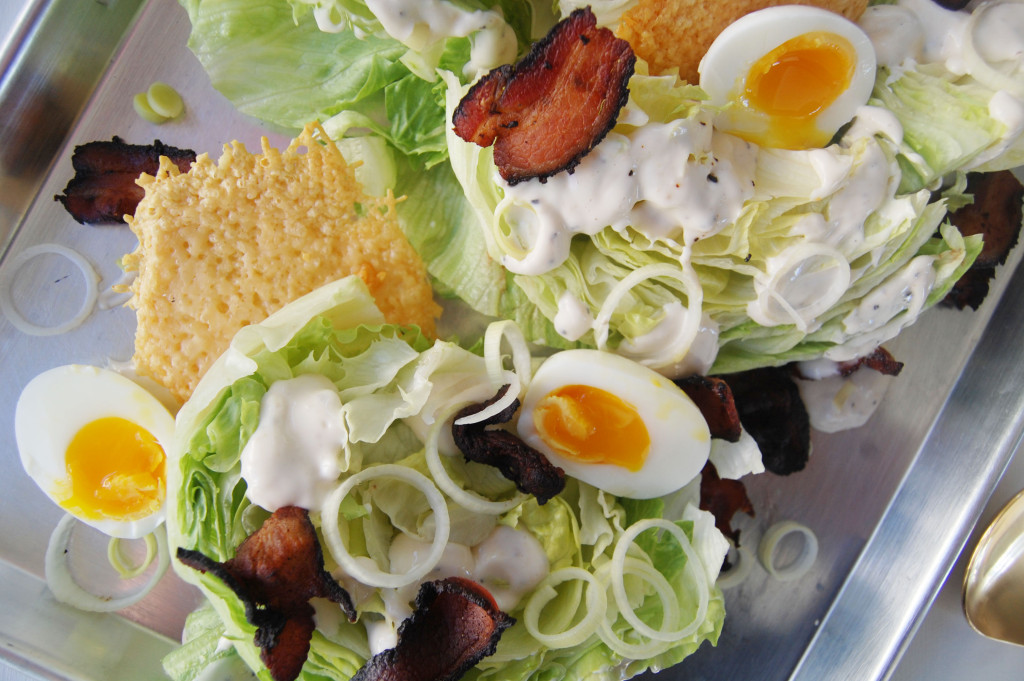 To make a parmesan crisp, you have to have finely grated Parmesan cheese. I'd love it if you grated your own and it was a quality Parmesan. On a baking sheet lined with parchment paper line make little mounds of cheese. Press down on them with the back of a spoon to push the cheese together. Place in oven that is 400 for 8 minutes. You want them to be golden brown but not cook too much because they'll become bitter. Pull them out of the oven and let them cool completely to have that nice crunch.
The other awesome thing about my wedge salad is the soft boiled eggs. I basically put a runny egg on anything. Soft boiled eggs can be tricky if you're not one to boil eggs. Set a pot on high heat and bring to a rolling boil. Place eggs in for exactly 7 minutes. Transfer to ice water bath to let them cool completely. Peel and slice in half.
My group was all ooing and awing over this and my gentleband reminded me it was, after all, iceberg lettuce. You can make anything fancy. Poor $1.99 Iceberg just needed to be called a wedge to up its value. You could honestly do whatever you want to your salad but I can share with you what I did with mine.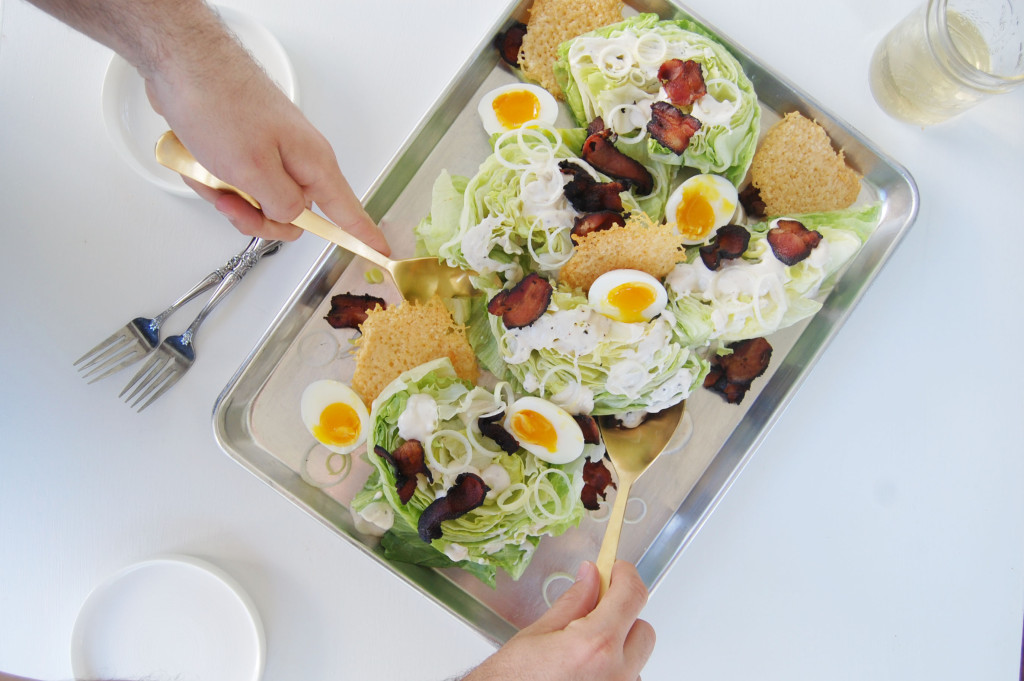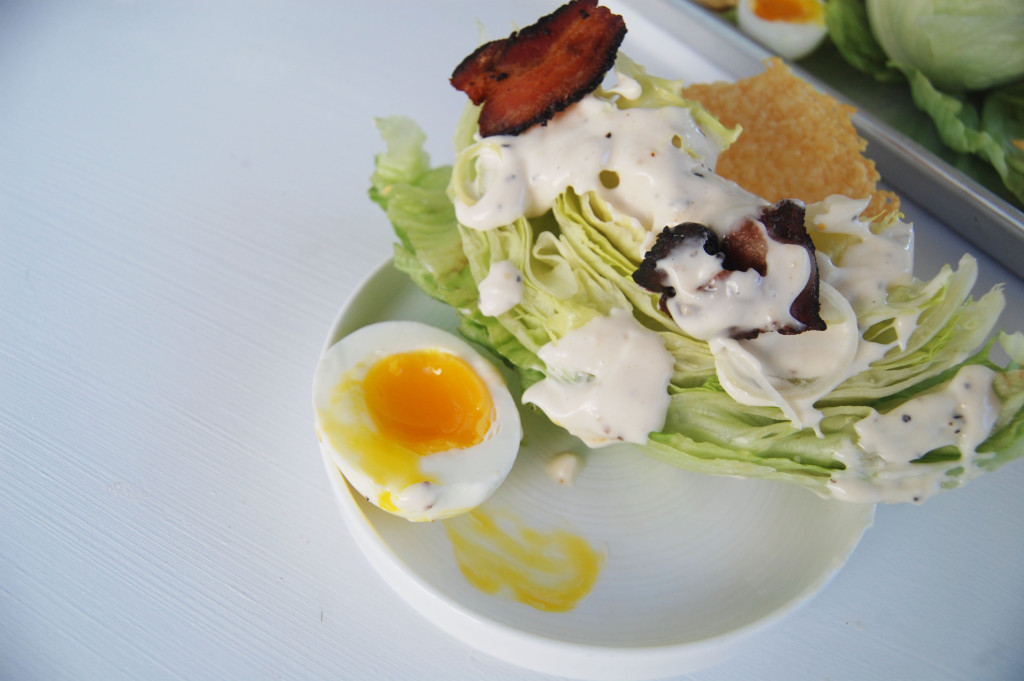 2 heads of Iceberg Lettuce
sliced leeks
4 Parmesan crisps
1/2 lb chopped bacon (I like the Black Forest Bacon from Fresh Market)
4 soft boiled eggs
Roasted Garlic ceasar dressing (This is just the Fresh Market brand)
Assembly!
∙take the heart out of the lettuce and wedge them with a knife
∙add to one large baking sheet and cover with dressing
∙sprinkle leeks on top
∙sprinkle bacon crumbles
∙slice soft boiled eggs and place in different areas on the tray
∙add Parmesan crisps throughout tray
∙Enjoy because it's really that simple