If I want something, I do what I need to get it as soon as possible. For this journal, I thought I needed it as soon as possible, so I actually had these photos taken five months ago. If I don't get something as soon as possible, I stop trying and basically give up to move on to something else more tangible in the moment. It's not good, I know; I'm working on it. Baking and cooking (along with my gentleband) are teaching me more and more of an appreciation for a personal process. These soufflés signify that for me, because even though they're super easy to make, I've had this shoot sitting in my inbox for months.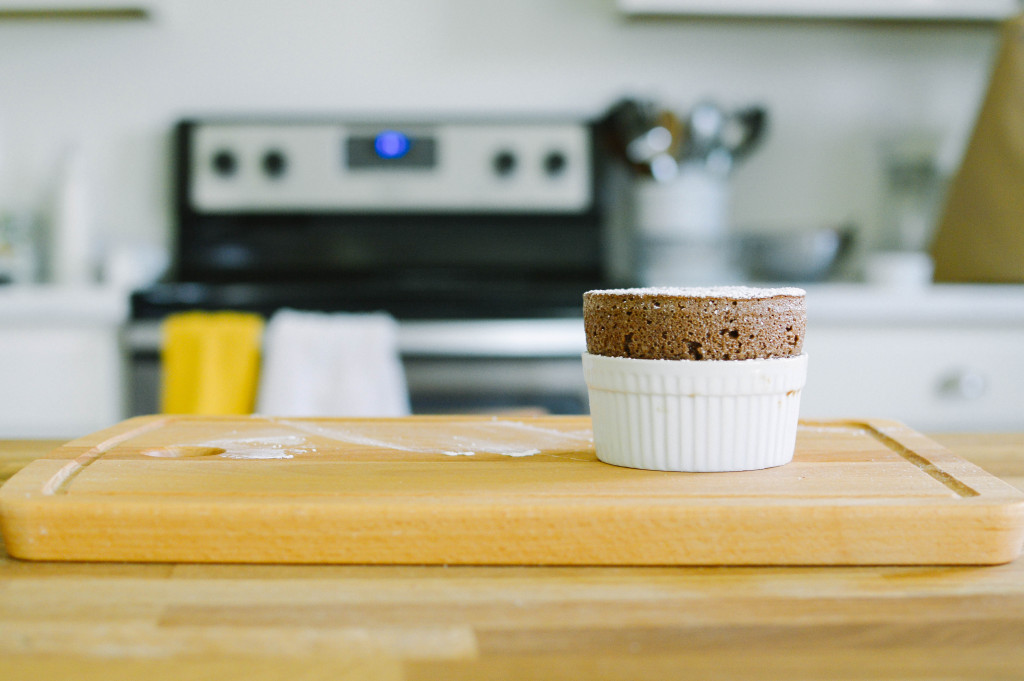 Before I share the details, let me express my love for ChefSteps, where this particular recipe comes from. ChefSteps is online teaching platform for "cooking smarter." They have a lot of free recipes and videos. I've learned a lot just by watching their videos, and their recipes are very easy to follow. They are also incredibly engaging, so if there ever were to be a question, I have no hesitation. They'd make sure my curiosity wasn't prolonged for too long.
ChefSteps does all of their recipes by weight. While I very much do prefer this, it's not what I'll always share.
These soufflés come out so gorgeous every time, and they have such an awe about them. Not only are they so beautiful, they are sooooo delicious.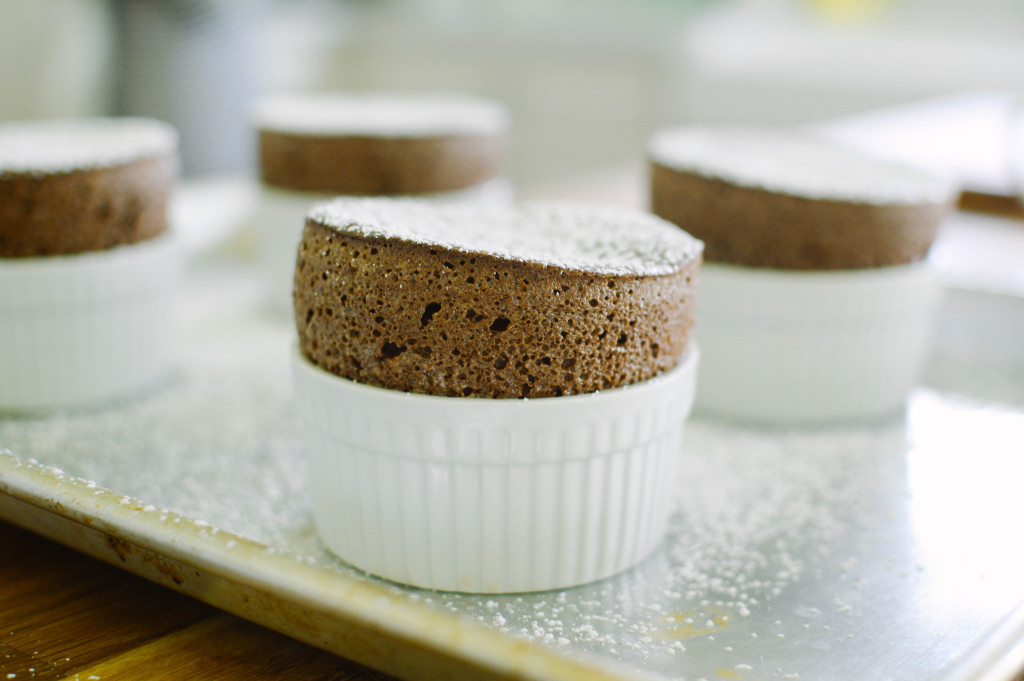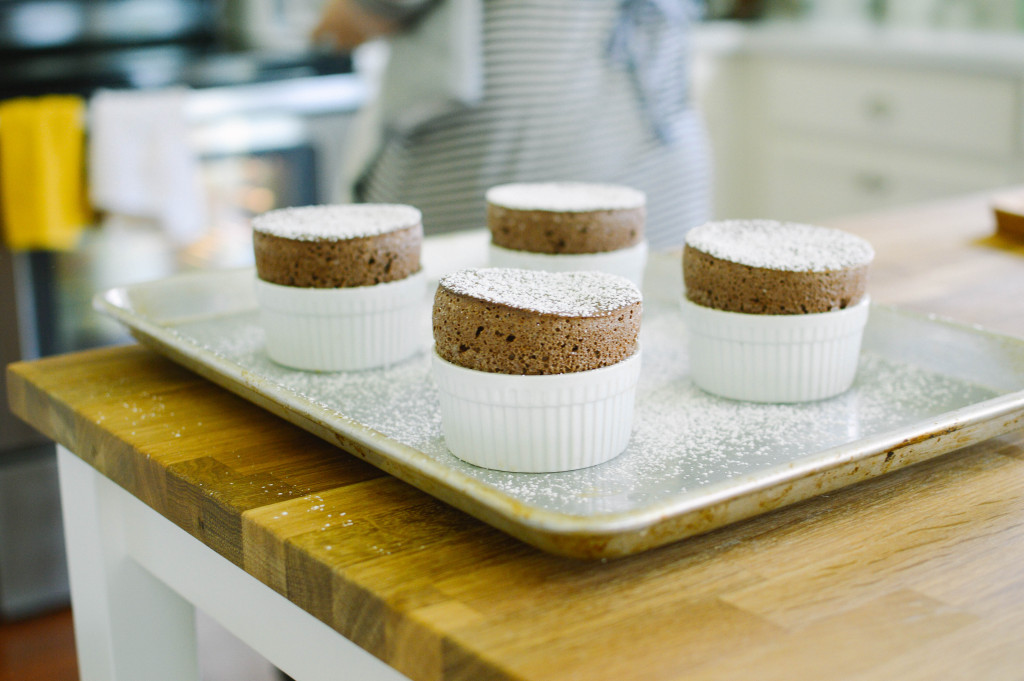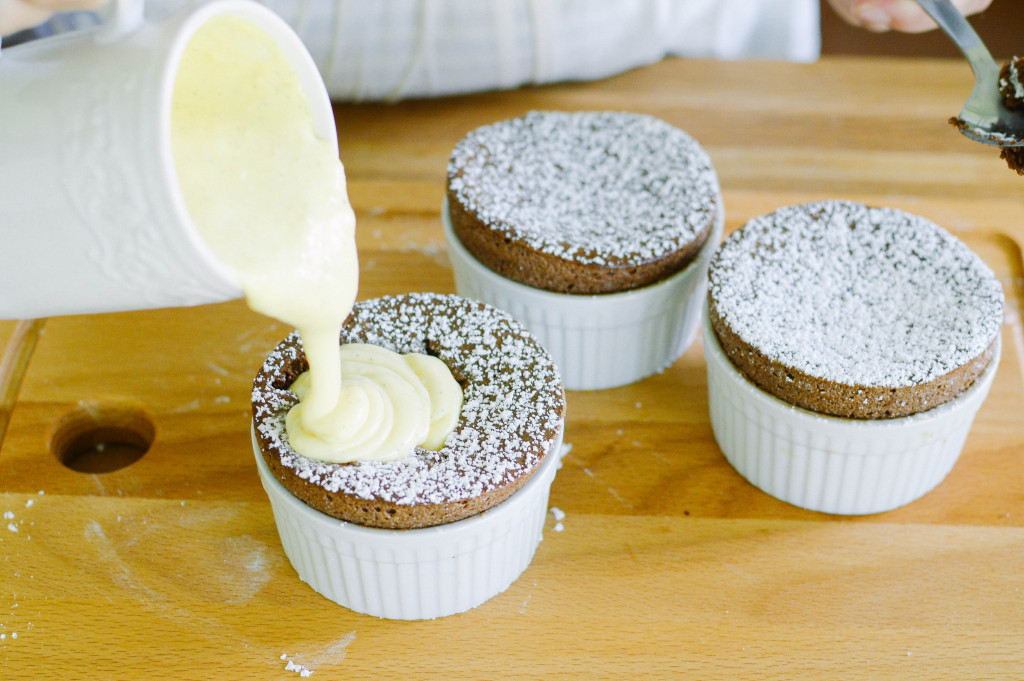 Ingredients
34 grams butter
75 grams granulated sugar
23 grams granulated sugar
34 grams bread flour
7 grams salt
188 grams whole milk
135 grams dark chocolate (buy quality chocolate)
68 grams egg yolks
112 grams egg whites
powder sugar for dusting
What you need to do
∙pre-heat your oven to 375F
∙completely butter the insides of your ramekins and coat with sugar
∙combine flour, salt, and butter until nothing in that bowl is dry!
∙heat 75 grams of sugar and milk together over medium heat and bring to a boil
∙add flour butter salt mix to the saucepan and whisk until everything dissolves into each other and becomes gummy
∙remove from heat and add chocolate until all incorporated
∙add egg yolks
∙in a separate bowl, whip your egg whites until foamy then add 23 grams of sugar until stiff peaks
∙fold meringue into batter
∙fill your soufflé ramekins to the top and level off with a knife
∙place soufflés on a baking sheet and place in oven for 17 minutes
∙sit in front of oven and watch these rise
∙dust tops with powdered sugar
things to know!
∙these things get so high, it's so exciting to watch (but they do fall after coming out of the oven)
∙please go to this recipe on Chefsteps to watch their video on making the soufflés
∙I always serve mine with crème anglaise, they have that recipe on Chefsteps too!
∙they are so good!
(Photos by Carla Thompson)
2 responses to "Chocolate Soufflés"